Pickles and Preserves, Pies, Pastries and Baked Goods
"Lily Pickles of Holmfirth" - traditional homemade pickles, chutneys and preserves

Lily Pickles of Holmfirth produce a range of pickles, chutneys and preserves made in the traditional way with no added artificial colourings, preservatives, E numbers or additives. The range is available in the Renaissance2 shop in Golcar and at Holmfirth Saturday market and other food markets, shows and Farmer's Markets, see the Lily Pickles website for details.
"Lily Pickles of Holmfirth" artisan baked goods.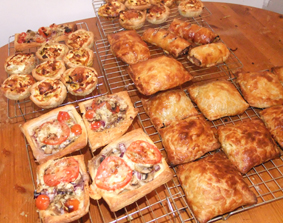 We also supply the Lily Pickles range of gourmet baked goods made on the premises. These include a range of pies, pastries, quiches, galettes, tarts etc including traditional and modern meat-based products as well as vegetarian and vegan ranges.
All products are cooked on the premises on Fridays and are available to order up to Wednesday each week for collection fresh from the shop between 5 pm and 6 pm on Fridays and 11 am to 2 pm on Saturdays or frozen during normal hours. Please order in the shop, by telephone or email. A list of regular products and weekly specials is available from the shop.
Other Food Items
The "Lily Pickles" area of the shop also includes a range of quality food items including herb and spices, biscuits, chocolates, soups, soft drinks etc including many Fairtrade, Vegetarian and Organic products.